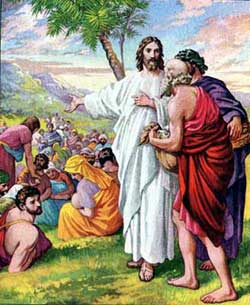 In general terms, in spite of our specialist callings,
every Christian is sent into the world as both a witness
and a servant. Whenever we see someone in need, whether
that need is spiritual or physical or social, if we have
the wherewithal to meet it, we must do so; otherwise we
cannot claim to have God's love dwelling in us (1 Jn.
3:16). Often people have more than one need, and if we
love them with God's love we shall do our utmost to relieve
their needs. It is then, too, that they are most likely to
believe. Verbal witness is not enough. As Jesus said, it
is when people 'see our good works' that our light shines
most brightly and will give glory to our heavenly father
(Mt. 5:16). John Stott, 'Saving Souls and Serving Bread', "Christianity
Today" (7 November 1980).